Georgia Memory Net (GMN) is a statewide program, developed in partnership with Emory University, to expand access to early and accurate diagnosis of Alzheimer's disease and other dementias and to support those living with dementia, including caregivers.
Additionally, GMN trains physicians to properly screen for the disease and collect data in a manner that will allow the state to better support those living with dementia. Cognitive Neurology and Neuropsychology Leads based in Emory's Cognitive Neurology Program train and continuously work with MACs to ensure the MAC providers have the tools and training they need to effectively and accurately diagnose Alzheimer's Disease and Related Dementias using evidence-based, clinically proven tools. 
Currently, five Memory Assessment Clinics (MACs) are in operation across the state. The MACs are located at Augusta University in Augusta, Grady Health in Atlanta, Navicent Health in Macon, Piedmont Columbus Regional in Columbus and Phoebe Putney Health in Albany.
 In SFY 2020:
All MACs increased their patient volumes. The clinics saw a total of 426 unique patients, conducted 747 diagnostic and care planning visits and 153 clients were referred to Area Agencies on Aging.
Lewy Body Dementia Association, Georgia Geriatric Workforce Enhancement Program, and various programs from across the Emory Brain Health Center and Goizueta Alzheimer's Disease Research Center at Emory.
During the COVID-19 pandemic, MACs suspended in-person visits. The clinics developed telemedicine workflows for all MAC locations using various methods such as telephone visits and videoconferencing platforms. The virtual options expand GMN's coverage to offer ongoing services throughout the state. GMN anticipates that further development of telemedicine will significantly extend MAC services into rural or otherwise under-resourced communities.
The network hosted the "GMNywhere Series," a virtual training course that covered a variety of topics including self-care, mental health, COVID impacts on primary care and frontline worker wellness.
As safety measures were established, each of the five MACs was able to safely and gradually reopen, ensuring continued provision of diagnostic and care planning services to Georgians in need.
 By the Numbers | GMN  
11.2% of those aged 45 and over report experiencing confusion or memory loss that is happening more often or is getting worse

190,000 residents are estimated to be living with Alzheimer's in Georgia by 2025
MAC_map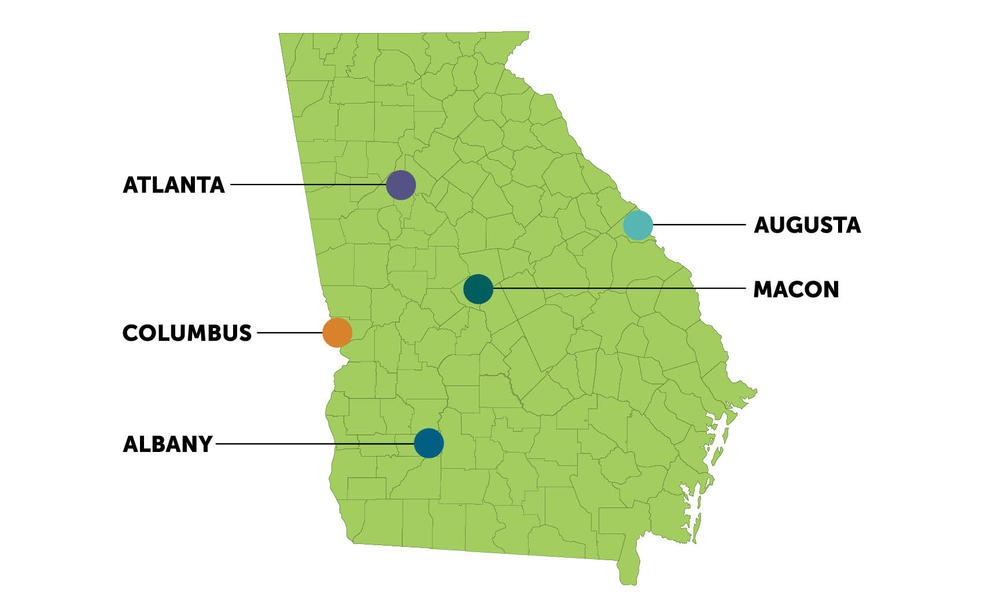 Did you know? Medicare