SW Georgia approved for Disaster SNAP
DSNAP1.jpg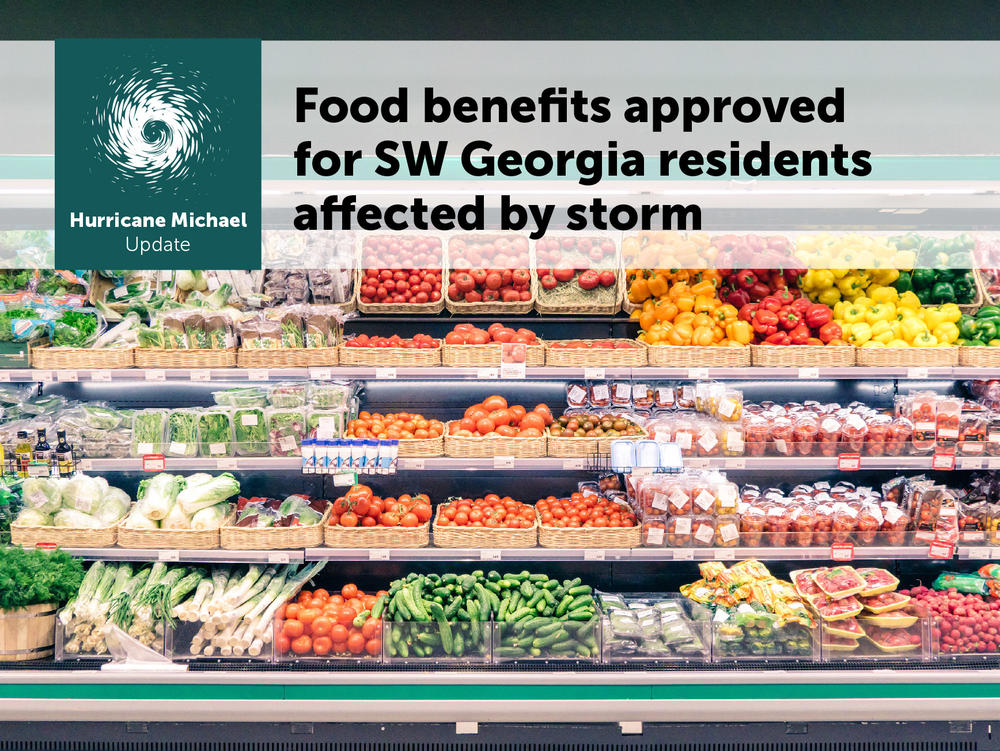 A message from DFCS Interim Director Tom Rawlings: D-SNAP
Mensaje del Director Interino de DFCS Tom Rawlings: D-SNAP
The Disaster Supplemental Nutrition Assistance Program, or D-SNAP, is a way to help individuals and families still struggling after major disaster events. 
Funded by the U.S. Department of Agriculture's Food and Nutrition Service and administered by the Georgia Division of Family and Children Services, these special benefits provide a one-time payment for the purchase of food to households who are not normally eligible for SNAP.
Unlike the regular SNAP program, these benefits can be used to purchase ready-to-eat foods from EBT approved retailers in these counties in addition to regularly approved SNAP food items. The hot food waiver expires on November 17, 2018. After that date, families must purchase foods according to the normal SNAP policies, which do not include hot foods.
If you live in one of the 20 counties hardest hit by Hurricane Michael and have extensive damage to your home or business, you may be eligible.
Information on general D-SNAP eligibility is below, along with the locations and times to go apply.
Current SNAP Customers should not go to a D-SNAP site as other assistance is available to them.
Assistance available to Current SNAP Customers
If you already receive regular SNAP, get less than the maximum food stamp allotment and live in one of the 20 counties, you will get a supplement automatically loaded onto your EBT card which will increase your benefit for one month up to the maximum allotment for your household size. You don't have to do anything to have the added benefit applied automatically to your EBT card. You do not need to apply at the D-SNAP site.
Who qualifies?
To qualify for DSNAP, Georgians must meet the following criteria:
Live or work in one of the 20 counties declared for Federal Emergency Management Agency individual assistance
Meet financial eligibility requirements
For disaster related losses to be counted toward your eligibility, they cannot be covered by insurance or have any other ways to pay the repair costs
Have suffered a disaster-related loss to property, your personal business or income, including incurring expenses related to the disaster. Examples of losses include:

home or business repairs
temporary shelter expenses
evacuation expenses
home/business protection
disaster-related personal injury, including funeral expenses
income loss, reduction or delay
food loss
How to apply
Eligibility for the program requires a face-to-face interview. You must apply in person at a designated D-SNAP site or send an authorized representative. See where to apply below.
Bring with you:
The head of household should bring identification (driver's license, state ID, etc.)
Proof you live or work in one of the affected counties
How much
The federal government sets the maximum benefit for a household size of one at $192. Your benefit will depend on your household size and the number of qualifying people living in your home at the time of the disaster.
For Current SNAP families: If you already receive less than the maximum, then your EBT card will have benefits added to it to bring you up to the maximum for the month of October automatically. You don't have to do anything to get it. Do not apply or visit a D-SNAP site.
Where to go
Here is a list of the locations for each county. Note that most are not in the office where you apply normally for food stamps. 
Hours of operation for all sites are Monday - Saturday 8 a.m. -5 p.m. and Sunday noon – 5 p.m. 
| COUNTY | DISASTER SITES | NOTES |
| --- | --- | --- |
|   |   |   |
| Wave 1 Counties | Run November 7-14 (Closed Nov. 12) (except Lee & Thomas Counties) |   |
| Baker | East Baker Historical Society Bldg., 156 Roosevelt Ave, Newton GA 39870 |   |
| Crisp | Crisp County Recreation Department 1205 N. 5th Street, Cordele, GA  31015 |   |
| Decatur | Southern Regional Tech College, Student Wellness Center Gym, 2500 East Shotwell St Bainbridge Ga, 39819 |   |
| Dougherty | Albany High School 801 W. Residence Ave. Albany GA 31701 (Auditorium Entrance) |   |
| Early | Early County Ag Center 5188 Freeman Rd. Blakely Ga 39823 |   |
| Grady | 601 HWY 84 E. Cairo, Ga 39828 |   |
| Lee* | Redbone Fire Station 1286 Graves Springs Rd. Leesburg, GA 31763 | Operate Nov. 8-15 closed Nov. 12 |
| Miller | Miller County DFCS 69 Thompson Town Rd, Colquitt, Ga 39837 |   |
| Mitchell | Mitchell County High School (on the East end), 1000 Newton Rd., Camilla, GA  31730 |   |
| Seminole | Seminole County Ag Barn 3041 Town and County Road Donalsonville, GA 39845 |   |
| Terrell | Terrell County DFCS  642 Randolph St. SE Dawson, GA 39842 |   |
| Thomas* | Professional Learning Center 200 N. Pinetree Blvd.  Thomasville, Ga 31792 | Operate Nov. 8-15 closed Nov. 12 |
| Worth | Worth County Community Center, 1310 N Monroe Street, Sylvester, GA 31791 |   |
|   |   |   |
| Wave 2 Counties | Run November 15-19 |   |
| Calhoun | 17691 Highway 37, Edison GA 39846 |   |
| Clay | Clay County DFCS 155 Wilson St, Suite 1, Fort Gaines, Ga 39851 |   |
| Laurens | Stubbs Park Gym 106 South Calhoun Street Dublin, GA 31021 |   |
| Randolph | Randolph County DFCS 145 North Webster St, Cuthbert, Ga 39840 |   |
| Sumter | Sumter County Head Start, 300 Cherokee Street Americus, GA 31709 |   |
| Tift | UGA Conference Center South Entrance, 15 RDC Rd., Tifton, Ga. 31794 |   |
| Turner | Turner County Agriculture Bldg  222 Rockhouse Rd. Ashburn, Ga 31714 |   |
If you are homebound and unable to come apply in person, you can choose someone to come and apply on your behalf. 
Wave 1 counties operate Nov. 7-14 (*except for Lee and Thomas Counties which run Nov. 8-15)

Wave 2 counties operate Nov. 15-19
If you are homebound and unable to come apply in person, you can choose someone to come and apply on your behalf. Just designate a representative.
If you have no one to send and a medical condition keeps you from coming yourself, we will send someone to your home.
Who to call
The information line for D-SNAP is 833-DSNAP-GA (833-376-2742).  Agents will be on hand to give out basic information about D-SNAP, share the locations of the sites and answer questions from both SNAP applicants and those with other questions.
The hours of operation for the D-SNAP call center are:
Monday - Saturday: 7:30 a.m. to 6 p.m.
Saturday and Sunday 8:00 a.m. to 4:00 p.m. for two weekends (11/10, 11/11 and 11/17, 11/18)
Closed November 12 for Veteran's Day
Closed Nov. 22-23 for Thanksgiving