June 28, 2021
Apply for child support online
The Division of Child Support Services (DCSS) works with parents to provide financial support for the overall well-being of their children. A parent who has custody of their child can apply to have a paternity and support order established.
Applying online is easy. Before you begin, make you sure have the following items readily available:
Social Security numbers for all parties (applicant, children and the other parent)

Medical insurance information and verification of school enrollment for all children

Most recent court order establishing child support, if applicable

If applying as the custodial parent or custodian, information about the noncustodial parent. This includes name, description, address, employer, all sources of income, licenses, assets, criminal history, military status, relatives and friends

If applying as the noncustodial parent, information about the custodial parent or custodian and children. This includes names, descriptions, addresses, all sources of income, relatives and friends, and the names and dates of birth of your other children  

$25 nonrefundable application fee
Once you have gathered the above information, you can begin the application by visiting the DCSS Online Portal.
1. Select "Start a New Application"
Start a new applicartion

2. Then, choose if you are the custodial parent (biological parent who lives with the child), noncustodial parent (biological parent who does not live with the child) or custodian (non-parent who lives with the child).
Custodial parent

3. Be sure to thoroughly read the next page outlining the services provided by DCSS and select the "Next" button when complete. It is important to remember that DCSS does not:
File a divorce action

Assist in obtaining legal custody or guardianship

Take legal action to pursue visitation or custody

Establish spousal support orders

Enforce spousal support if it is not in conjunction with a child support obligation

Legitimate minor children

Seek retroactive child support (prior to a child support order)
You will need to contact a private attorney to assist with these concerns.
4. Select "instructions" from the navigation menu to find a list of all additional documentation that must be submitted with your application. Read this page to ensure that you have everything required. Select the "Next" button to move on.
Documentation instructions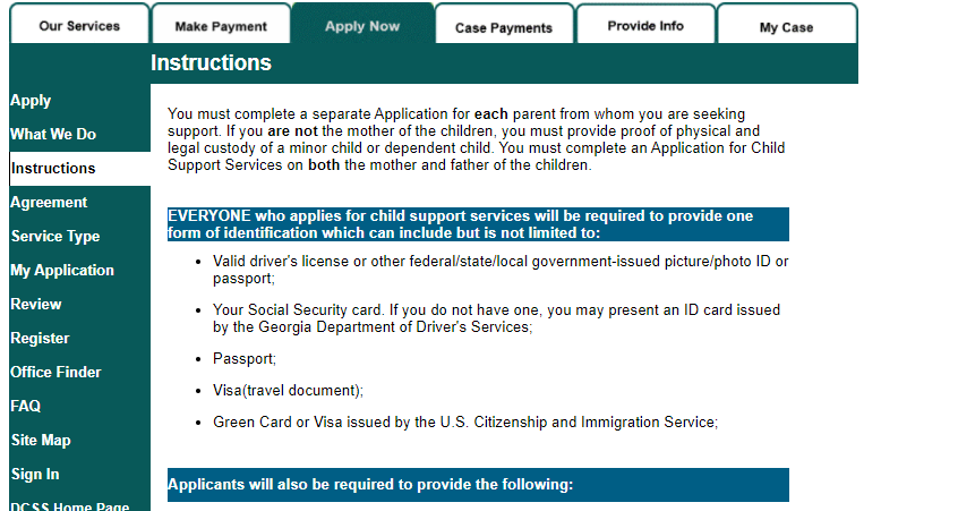 5. Select the checkbox next to each statement to confirm that you understand the agency's terms and conditions regarding the child support application and case process.
Agency terms and conditions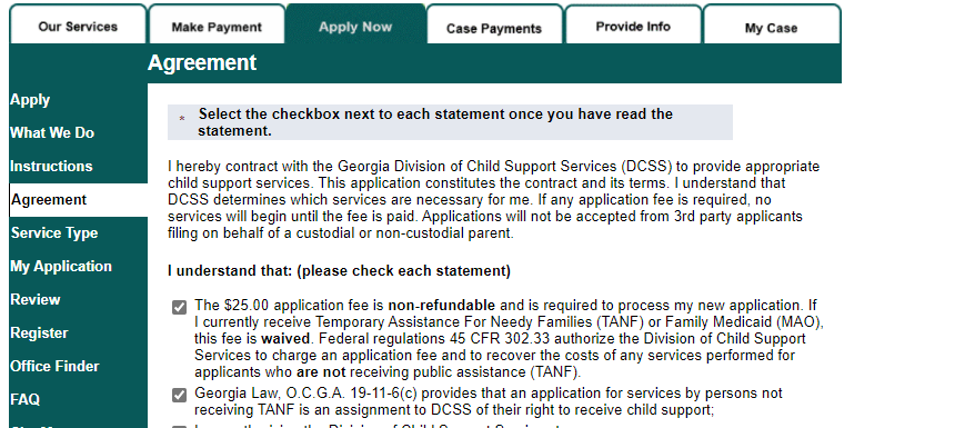 6. Next, select whether you'd like to apply for full child support services, which includes location, paternity establishment and enforcement of court orders, or only medical insurance coverage for your child. 
Full services or medical insurance only
7. Finally, complete the application with the required personal information. You can use the "Save for Later" button at any time to finish and submit your application later. However, pending applications will be discarded if they are not completed and submitted within seven days.
Links to complete application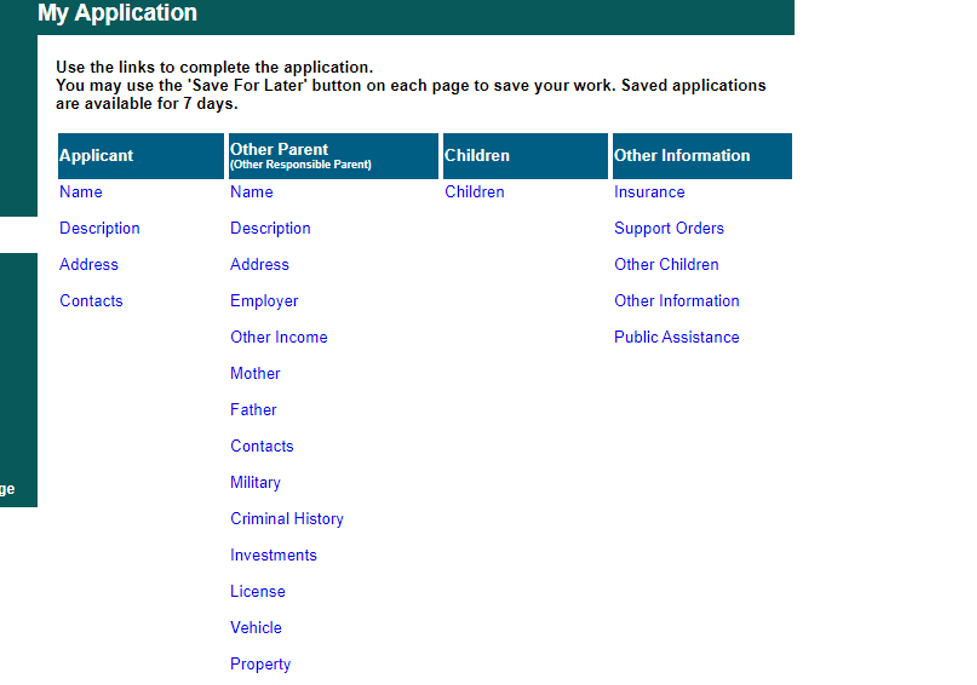 8. Once you have submitted your personal information, you will have the option to pay the $25 nonrefundable application fee. All applications requiring a fee will be discarded if the fee is not paid in full within 25 days of submission.
After submitting your completed application, DCSS will follow up with you regarding your case. As part of this follow up, you will be required to complete, sign and return certain documents.