Data may have been compromised for some households involved in Child Protective Services cases in Spring 2020. If you believe your information may have been included in this breach, call 888-304-1021 from 9 a.m. – 4 p.m., M-F.
Temporary Assistance for Needy Families
Adults who receive Temporary Assistance for Needy Families (TANF) are required to participate in approved work activities a minimum of 30 hours each week. If the household has a child under age 6, the weekly minimum requirement is 20 hours. Children and families exhibiting the greatest need can benefit from the TANF cash assistance program if their parents participate in qualified work activities. This program is also available to children in the care of relatives. Adults who receive benefits on behalf of a relative child (called a "child-only case") are not subject to work requirements. Activities that meet TANF work requirements include:
Unsubsidized employment
Full or part-time employment
Work experience
Work activity, performed in return for public assistance that provides an individual with the opportunity to acquire the general skills,knowledge and work habits necessary to obtain and retain employment
On-the-job training
Training given to a paid employee that provides knowledge and skills essential to the performance of the job.
Community service
Structured programs and activities for the direct benefit of the community. These programs are limited to projects that serve a useful community purpose in fields such as health, social services, environmental protection, education, urban and rural redevelopment, recreation, public facilities, public safety and/or child care
Job search and job preparedness assistance
Act of seeking or obtaining employment, or preparation to seek employment, by undergoing life skills training, substance abuse treatment, mental health treatment or other rehabilitation activities. Treatment or therapy must be deemed necessary by a qualified medical, substance abuse or mental health professional
Vocational training
Organized educational programs that are directly related to the preparation of individuals for employment in current or emerging occupations.This activity is countable for up to 12 months
Job skills training directly related to employment
Training or education required for employment to advance or adapt to the changing demands of the workplace
By the Numbers | TANF 
12,613 total number of TANF cases in SFY 2020
892 average number of caregivers who receive TANF support each month and are subject to a work requirement 
$256 average benefit amount per month
14,519 average number of children supported by TANF each month
7,783 average number of child-only cases receiving TANF support each month, meaning the caregivers receive assistance on behalf of a child and are not required to participate in work activities
TANF in Action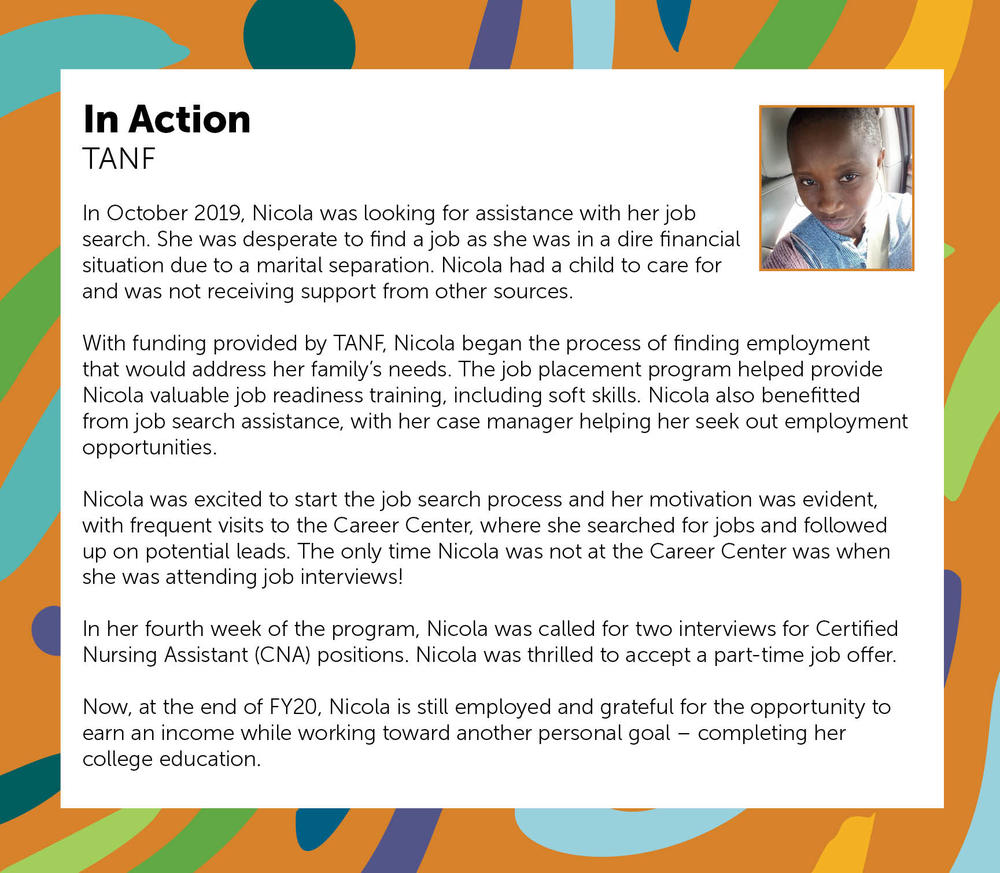 TANF response to COVID-19 pandemic
On March 14, 2020, Gov. Brian P. Kemp signed a Public Health State of Emergency to address the coronavirus in Georgia. That same day, TANF policy was simplified to prevent unnecessary requests of clients during the pandemic.
As a result, the number of forms with signature requirements was reduced, and TANF renewals were extended an additional six months, beginning in March and lasting through August.
Applications for TANF were available immediately via telephone, and online application submissions in Georgia Gateway were effective June 1. Mandatory work requirements were waived and work sanctions were lifted on April 1. People who wanted to participate in a supported job search activity were permitted, and they were eligible for continued work support payments once employment was obtained.