:
COVID-19 Prevention Efforts
Effective March 23 at 8 a.m., DHS customers should use self-service options as primary means to conduct business with DHS. In-person services will be provided by appointment only. For more information, click here.
Community-Based Support for Kinship Caregivers
Are you interested in meeting other kinship caregivers in your community? Regional Area Agency on Aging offer support groups for kinship caregivers and can provide referrals to services across the state.
Kinship Support groups provide education and peer support regarding grandparents raising grandchildren, positive parenting, effective discipline and healthy relationships.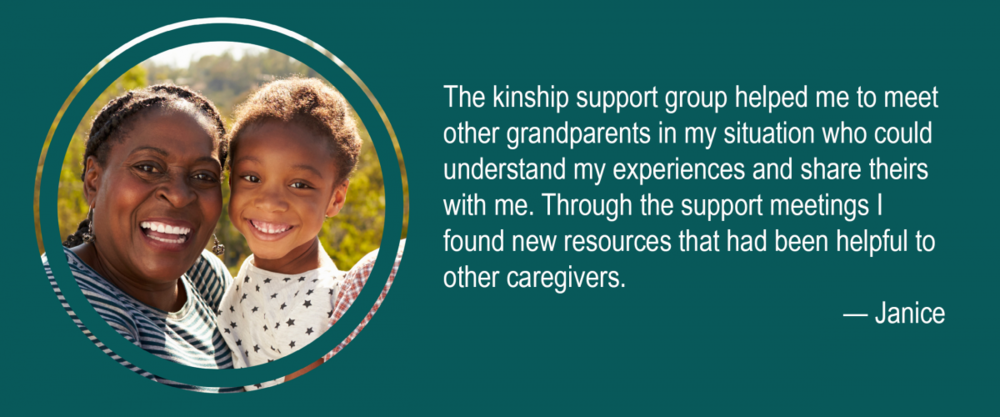 Where can I find other organizations that provide support to grandparents and other caregivers?
A wide range of nonprofits are also dedicated to the improvement of the quality of life of caregivers and the children in their care. The services provided range from physical and mental health to support groups and a friendly ear willing to listen.
Athens Community Council on Aging
Clarke, Oconee, Jackson, Barrow, Walton, and Madison counties: 706-549-4850
Georgia Family Connection Partnership
Project GRANDD (Grandparents Raising and Nurturing Dependents with Disabilities)
All 159 counties: 470-310-3452
Project Healthy Grandparents @ Georgia State University
Metro Atlanta: 404-413-1118
Grands Who Care
Rome: 706-291-8496
Kinship Care Center – Medical College of Georgia School of Nursing
Metro Augusta: 706-721-6227
Kinship Care Resource Center in Jonesboro
Clayton County: 770-473-5788
Georgia Court Appointed Special Advocates (GA CASA)
404-874-2888
Family Support Council
Northwest Georgia: 706-272-7919
Georgia Legal Services Program
Georgia: 800-745-5717
Albany/Valdosta: 229-430-4261 
Athens: 770-535-5717 
Augusta: 706-721-2327 
Brunswick: 912-264-7301 
Columbus: 706-649-7493 
Dalton: 706-272-2924 
Macon: 478-751-6261 
Piedmont: 404-894-7707 
Savannah: 912-651-2180