In 2020, the Georgia Commission of the Deaf or Hard of Hearing (GaCDHH) adopted the mission to advocate for human rights for Georgia's Deaf, hard of hearing, and DeafBlind (DB) communities across the lifespan and inclusive of all languages.
Georgia Commission for the Deaf and Hard of Hearing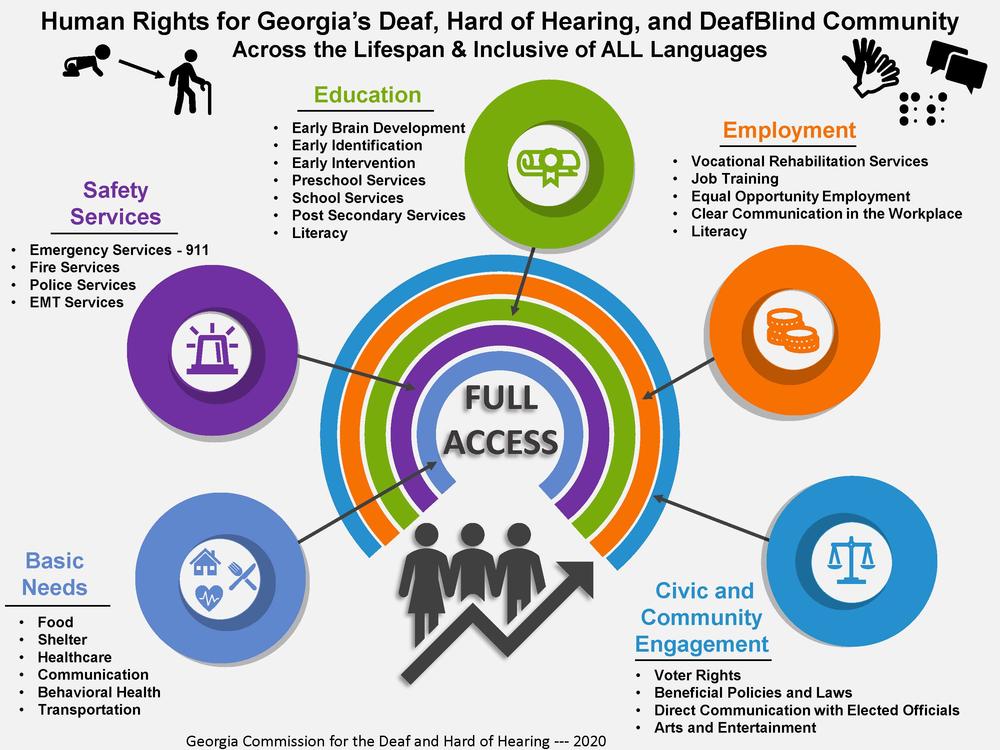 Commission Initiatives
2023-2024
Generate an annual report to the Governor and General Assembly to measure progress towards age-appropriate language and literacy outcomes for DHH children.

Facilitate the creation of ASL videos for state websites to make the information accessible to the DHH and DB communities.

Advocate for increased availability of and access to text-to-911 throughout Georgia. This will enable full access to emergency services using text.  

Advocate for changes in Georgia Medicaid policies and procedures that will result in improved access to audiological services.

Encourage and facilitate the installation of hearing loops in selected public places (e.g., Georgia Capitol, airport). Hearing loops facilitate access to spoken language for those who wear hearing aids and cochlear implants. 

Host a series of panels that highlight the achievements of DHH and DB adults. The goal is to inspire middle and high school DHH students, young DHH adults, parents of DHH children, as well as educators and administrators about possible school and career opportunities for DHH and DB individuals.

Support the creation of a Support Service Provider (SSP) Program for DB adults in Georgia. SSPs are trained professionals who guide and provide communication access.

Support an initiative that creates a pathway for licensure of professional interpreters in Georgia.